Crime Scene Cleanup Requires Special Care and Procedure
7/9/2019 (Permalink)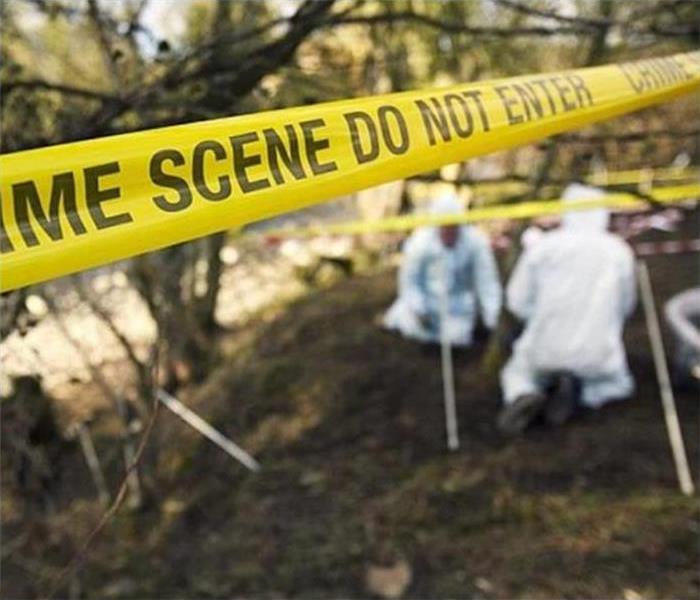 Do you need a Crime and/or Trauma Scene cleaned? Call the professionals at SERVPRO of Santa Clara today! 408-392-9700
Crime and Trauma Scenes stir up many emotions for those who encounter and have to deal with the aftermath. SERVPRO of Santa Clara understands the necessity of caring for the customer and the clean-up quickly and efficiently to diminish the impact on the professionals, family and friends that are exposed to the situation. We will also treat your property and the people involved with the greatest empathy and respect in the face of trying circumstances.
Once the Crime Scene Unit has completed their Investigation and approves entry, the clean-up process can begin. It is imperative that the clean-up and restoration is performed by trained professionals who understand the serious health risks that exist due to blood and other bodily fluids. The crime or accident scene may contain blood borne pathogens, harmful chemicals, and other dangers. SERVPRO of Santa Clara technicians will respond immediately, have specialized training, proper protective equipment, and the experience to safely clean and sanitize the contaminated areas. Our first priority is your safety. Our technicians will follow industry recommended protocols to help transform an unsafe environment back into a clean, safe home or business as quickly as possible. Our services include the following:
Crime and/or Trauma Scene Cleaning Services
Fingerprint powder and evidence-gathering chemicals
Tear gas and pepper spray residues
Fire extinguisher residue
Blood, urine, feces, and other bodily fluids
Blood Borne Pathogens
SERVPRO of Santa Clara professionals remove and dispose of bodily fluids, tissue and other potentially pathogenic substances resulting from accident, trauma, crime or death. Trained SERVPRO of Santa Clara professionals will then clean, disinfect and deodorize the structure.
Methamphetamine Labs
SERVPRO of Santa Clara realizes many of the chemicals used in the production of illegal drugs such as methamphetamine are volatile and can leave harmful residues throughout a home or business. Our professionals follow federal and state guidelines to properly clean all surfaces.
Need Trauma and/or Crime Scene Cleanup?

Call Us Today at (408) 392-9700 to help make it "Like it never even happened."